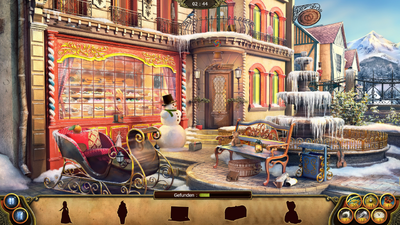 Winter Street is unlocked through normal game play when a player reaches level 7.
Players can 'pay to play' Winter Street from level 5 onward, where they can choose to pay with crystals (which will need to be bought with real money) to unlock the Picture early, rather than waiting until they reach level 7 and unlock it for free through normal game play.
Winter Street was introduced during the Christmas 2014 Update. For the duration of the Christmas challenge, Christmas ball special items were needed in addition to energy points to play Winter Street. Christmas balls were given as rewards for every successful investigation for every picture, but not for playing puzzles, nor as rewards for banishing anomalies.
The picture got a make-over as part of the Spring 2015 Update turning it from a night time Christmas picture into a day time winter picture. Also with this update Christmas balls were removed from the game and Winter Street became a normal picture that just requires energy points to play.
From the Diary:
"Its snowed all day long. Christy and I decided to go out and make a snowman. Then sweet Alfred made us wonderful and aromatic Christmas tea with caramel and berries. The holiday mood is palpable. They say that miracles are always happening at Christmas, and it seems it's true because Christy and I found a new magical photo from Richard's collection: 'Winter Street'. It exudes that holiday feeling - and it's definitely become one of my favorite photos!"
Winter Street is one of the pictures in the game that does not reward any combining elements, but does reward collection items that require a large number of combining elements to combine.
The following is a list of hidden items found in Winter Street in most modes. Depending on the Picture Level and Game Mode you may not have to find all the items in one visit.  Morphs and Pieces modes have their own items that need to be found, separate from those listed below.
Accordion
Bag
Ball
Broom
Camera ¹
Clock
Cotton candy ¹
Ice cream ²
Knitted hat
Ladder ¹
Lollipop ¹
Magpie
Mailbox
Newspaper
Poinsettia
Pot
Princess
Radio
Skis
Snow Queen ²
Tangerine
Teddy bear
The Snow Queen
To-go cup
Toy soldier
Violin
Item Notes:
An Update before 2017 made the following changes:

Removed: Piece of cake
Added: Camera, Cotton candy, Ladder, Lollipop

The Hanami Festival Update (April 2018) made the following changes:

Ice cream cone was renamed Ice cream
The Snow Queen was renamed Snow Queen
Resource Demands and Rewards for Playing
Edit
Winter Street is a Collection Item only Picture. This means its list of potential rewards for each play only contains regular Collection Items, mode dependent Collection Items (depending on what mode the Picture is currently in), and Quest Items (if a Quest is currently active for the Picture). The list of potential rewards for Winter Street is made up of 11 Collections:
When Winter Street is first opened, and so is on Novice level, only the first 3 items from the Christmas cake collection will be on the list of potential rewards. As the level of the Picture is increased, more and more items will be unlocked as potential rewards.
The amount of energy required to play Winter Street will increase as the level of the Picture is increased. The experience points and coins rewards for each win of the Picture will also increase to match the increase in resource demands, as will the pool of potential collection item rewards:
Level
Resource Demands
Minimum Resource Rewards
Potential Game Item Rewards Pool
Energy Points
Special Items
Experience Points
Coins
Combining Elements
Collection Items
Novice
17
N/A
70
90
N/A
Almonds; Hazelnuts; Figs
Trainee
20
N/A
80
100
N/A

+

Raisins; Lemon peel; Christmas lantern
Detective
23
N/A
90
110
N/A

+

Christmas kitten; Christmas puppy; Christmas bear
Pro
26
N/A
100
120
N/A

+

Christmas penguin; "Angel" candle; "Snowman" candle
High Explorer
29
N/A
110
130
N/A

+

"Cute kids" candle; "Reindeer" candle; "Elf" candle
Academician
32
N/A
120
140
N/A

+

Elf with violin; Elf with guitar; Elf with triangle
Magister
35
N/A
130
150
N/A

+

Elf with flute; Elf with bells; Gingerbread house
Professor
38
N/A
140
150
N/A

+

Gingerbread sun; Gingerbread moon; Gingerbread kids; Gingerbread Santa; Irish coffee; Macchiato; Latte; Café mocha; Café frappé; "The Society Bulletin"; Lottery Ticket; Gargoyle Magazine; List of Winners; Passports; Scrap #1, #2, #3, #4, #5
Grand Magister
41
N/A
150
160
N/A

+

Handlebar; Brake lever; Wheel; Carrier; Pedals; Testimony; Howard's, Christy's, Alfred's, Lewis's testimony; Christmas hat, scarf; gloves; socks; sweater
Winter Street and the Travel Time Update Challenge
Edit
The Travel Time Update changed Winter Street so that it would not give out any collection items during the update's timed challenges. Once a player completed all 3 update challenges or the challenge timer expired (whichever happened first), the collection items that should be won in Winter Street returned to the picture's 'Can be Found' list and could once again be won by winning games of the picture.
Poinsettia are a red and green leaved plants widely used in Christmas floral displays.
Cup
Ladder

Above the door
Under the fountain

Newspaper