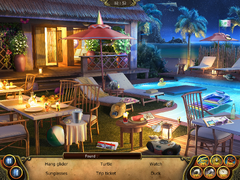 Tropical Evening is unlocked when the player reaches level 130.
Tropical Evening was introduced during the Celebration by the Bonfire Update (June 2016). When the Update was first released, Tropical Evening was hidden and did not appear on player's boards until the Vacation by the Sea Timed Challenges began. This was the first time that content installed on a device by an update file was set to be hidden until a pre-determined date, and was used as a way to have two separate Timed Challenge Events installed at the same time, with staggered start dates. This marked the beginning of a new era in updates for the game.
For the duration of the Celebration by the Bonfire Update/Vacation by the Sea Timed Challenges, Tropical Evening could be opened from level 7 onward to allow all players to take part in the Vacation by the Sea timed challenges.
Sunglasses special items were needed in addition to energy points to play Tropical Evening. While the Vacation by the Sea Timed Challenges were still active, Sunglasses were given as rewards for every successful investigation for every picture, and as rewards for banishing Anomalies, but not for playing puzzles. After the timed challenges ended (either a player completes all of the challenges, or the timer expires, whichever happened first), Sunglasses were restricted so that they were only won by playing Japanese House and Amusement Park.
With the Introduction of the Harvest and Halloween Update (September 2016), Sunglasses were completely removed from the game. They were no longer required to play Tropical Evening, which became a regular Picture that just requires energy points to play. Any leftover Sunglasses in a player's Inventory were automatically converted, in equal parts, to the regular special items in the game (Fireflies, Ladybugs, Carrots, Cupid Arrows, and Tokens) and the collections that used to reward Sunglasses as rewards for combining them during the Celebration by the Bonfire Update had their rewards changed to regular game items.
From the Diary:
"The ambient temperature is rising, heating the air. While searching for a summer dress, Christy managed to find a magical photo in an entirely unexpected place: an old wardrobe. Inside it, Christy noticed an unusual parcel of sand, and in the pile of sand were hidden pieces of a magical photo! The photo depicts an evening far away in the tropics. You can almost feel the fresh sea breeze when you look at the photo. It lures me to dive into it headfirst. I wonder what awaits me there?"
Tropical Evening is one of the pictures in the game that does not reward any combining elements but does reward collection items that require a large number of combining elements to combine.
The following is a list of hidden items found in Tropical Evening in most modes. Depending on the Picture Level and Game Mode you may not have to find all the items in one visit.  Morphs and Pieces modes have their own items that need to be found, separate from those listed below.
Bag
Balloon
Baseball cap
Boomerang
Coconut
Duck
Elephant
Fishing rod
Flag
Hang glider
Harpoon
Lei
Poster
Shell
Snorkel fins ¹
Snorkeling mask
Starfish
Sunscreen
Sunglasses
Swim ring
Trip ticket
Turtle
Umbrella
Watch
Watermelon
Item Notes:
The Hanami Festival Update (April 2018) made the following changes:

Snorkeling fins was renamed Snorkel fins
Resource Demands and Rewards for Playing
Edit
Tropical Evening will be a Collection Item only Picture. This means its list of potential rewards for each play only contains regular Collection Items, mode dependent Collection Items (depending on what mode the Picture is currently in), and Quest Items if a Quest is currently active for the Picture). The list of potential rewards for Tropical Evening will be made up of 11 new Collections added by the Celebration by the Bonfire Update:
When Tropical Evening is first opened, and so is on Novice level, only the items from the Remains of the cursed ship and the first item from the Mansion's lighting collections will be on the list of potential rewards. As the level of the Picture is increased, more and more items will be unlocked as potential rewards.
The experience points and coins rewards for each win of the Picture will also increase to match the increase in resource demands, as will the pool of potential collection item rewards:
Level
Resource Demands
Minimum Resource Rewards
Potential Game Item Rewards Pool
Energy Points
Special Items
Experience Points
Coins
Combining Elements
Collection Items
Novice
109
N/A
370
390
N/A
Ship's bell; Cannonball; Piece of canvas; Figured bowsprit; Worn-away sign; Brass lamp
Trainee
112
N/A
380
400
N/A

+

Wall lamp; Bronze chandelier; Floor lamp; Porcelain lamp; Base; Glass dome
Detective
115
N/A
390
410
N/A

+

Obsidian pedestal; Lid lock; Sun lamp; Owl brooch; Falcon brooch; Dragonfly brooch
Pro
118
N/A
400
420
N/A

+

Butterfly brooch; Deer brooch; Hollow stone; Hollow train; Hollow iron; Hollow book
High Explorer
121
N/A
410
430
N/A

+

Empty battery; Restaurant of illusion; English house; Amsterdam; Assembly hall; Ghost village; Turns into a crow
Academician
124
N/A
420
440
N/A

+

Sends diseases; Summons drought; Poisons water; Steals things; Shackles; Prisoner's chains; Weight
Magister
127
N/A
430
450
N/A

+

Tatters; Blindfold; Neutral Mask; Surprised mask; Frowning mask; Cheerful mask; Smiling mask; Citizen 1
Professor
130
N/A
440
460
N/A

+

Citizen 2; Citizen 3; Detective; Gangster; Surprised mug; Laughing mug; Happy mug; Sad mug; Angry mug
Grand Magister
133
N/A
440
460
N/A
Same as Professor
Note: Sunglasses Special Items were required, in addition to energy points for each play of Tropical Evening from the introduction of the picture by the Celebration by the Bonfire Update/Vacation by the Sea Challenge and continuing after the challenge event ended.  The Harvest and Halloween Update (September 2016) removed Sunglasses as a requirement to play Tropical Evening, and it is now a regular Picture that just requires energy points to play.
Additionally, the energy demands and experience points/coins rewarded for Tropical Evening have been changed by the Harvest and Halloween Update, since the level to unlock Tropical Evening has been increased from 7 to 132 and higher unlocking level Pictures tend to have higher energy demands, higher experience points and coins rewards, and slower rates of % progress for each play at the Novice - Pro levels.
Amulet of Rarities Artefact
Edit
Two of the Collections whose items are in the pool of potential rewards for Tropical Evening - Magic Case and Strange Paintings - are needed to combine the new Amulet of Rarities Artefact, added to the game by the Celebration by the Bonfire Update. The last of the items from these collections will not be available in Tropical Evening until a player reaches High Explorer level in the Picture. Players will also need to reach Professor level in the Camping Site picture to unlock the items needed for the other 3 Collections that make up the Artefact.
The Amulet of Rarities Artefact decreases the number of Special Items that are needed to play certain pictures (e.g. Tokens to play Observation Deck or Cupid Arrows to play Tree of Dates) by 20% for 24 hours once activated, so will be a very useful Artefact for players. It will not be possible to win the items required to make this Artefact (other than from random drops when visiting Friends and Collectors Desktop Award) until the Tropical Evening Picture is released in the game.