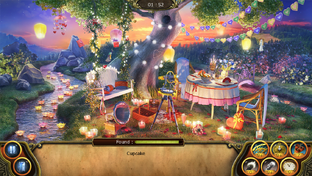 Tree of Dates is unlocked through normal game play when a player reaches level 14.
Players can 'pay to play' Tree of Dates from level 12 onward, where they can choose to pay with crystals (which will need to be bought with real money) to unlock the Picture early, rather than waiting until they reach level 14 and unlock it for free through normal game play.
Tree of Dates was introduced during the Valentines 2014 Update. Tree of Dates is a special item picture, which means that a set number of special items are needed in addition to energy points for each play. The special items needed for Tree of Dates are Cupid Arrows. The number of Cupid Arrows needed for each play of Tree of Dates depends on the picture's scene progress level, starting at 5 Cupid Arrows per play at Trainee level and ending at 45 Cupid Arrows per play at Grand Magister level. Cupid Arrows are given as rewards for every successful investigations of Venice and Throne Room. From the Diary:
"Christy's grandmother, Jacqueline, asked me to find her missing photograph. It was a picture of the place where she had the most wondrous date and it was very precious to her. Later, when I found the picture, I saw that it was a photograph of a beautiful place full of love and romance."
The following is a list of hidden items found in Tree of Dates. Depending on the Picture Level and Game Mode you may not have to find all the items in one visit.
Alarm Clock
Angel
Bubble Blower
Candy Floss
Cuddly Toy
Cupcake
Envelope
Floral Wreath
French Macaron
Gift Bag
Jar
Kiss
Ladybug
Lollipop
Milkshake
Peacock
Pendants
Perfume
Pomegranate
Ribbon Tree
Ruby
Shell
Strawberry
Swans
Zephyrs
Morphs and Pieces modes have their own items that need to be found, separate from those listed above.
Resource Demands and Rewards for Playing
Edit
The amount of energy and Cupid Arrow Special Items required to play Tree of Dates will increase as the level of the Picture is increased. The experience points and coins rewards for each win of the Picture will also increase to match the increase in resource demands, as will the pool of potential collection item rewards:
Level
Resource Demands
Minimum Resource Rewards
Potential Game Item Rewards Pool
Energy Points
Special Items
Experience Points
Coins
Combining Elements
Collection Items
Novice
24
5 cupid arrows
90
100
Thread
Wooden Spoon; Cuddly Toy; Chocolate Heart; Pair of Scarves; Knitted Heart; Melissa Tea
Trainee
27
10 cupid arrows
100
120

+

Needle; Pin

+

St. Valentine Statue; Golden Pendant; Angel Valentine Card; Pair of Plates; Shell Heart; Motherwort Tea
Detective
30
15 cupid arrows
110
130

+

Thimble; Heart; Postcard

+

Dove Valentine Card; Swan Valentine Card; Butterfly Valentine Card; Pair of Glasses; Bead Heart; Hawthorn Tea
Pro
33
20 cupid arrows
120
140

+

Rose; Candle

+

Squirrel Valentine Card; Suit; Box of Chocolate; Pair of Pendants; Candy Heart; Ginger Tea
High Explorer
36
25 cupid arrows
130
150
Same as Pro

+

Poetry Collection; Picnic Basket; Bouquet; Pair of Rings; Heart Lock; St. John's Worth Tea
Academician
39
30 cupid arrows
140
160
Same as Pro

+

Bunny Rabbit; Young Frog; Fox; Prince; Princess
Magister
42
35 cupid arrows
150
170
Same as Pro

+

Orchid (1); Gloriosa; Aquilegia; Middlemist's Red; Black Tulip
Professor
45
40 cupid arrows
160
180
Same as Pro
Same as Magister
Grand Magister
48
45 cupid arrows
170
190
Same as Pro Level
Same as Magister
Known Glitches
Edit
Currently (as of the Valentines Update), there is a glitch in Tree of Dates that affects some, but not all, devices playing the game. Depending on the resolution of the screen of the device, the image may be cut off at the bottom. This leads to the Bubble Blowers to spawn below the banner that tells you which items to look for. When this is the case, you cannot reach the Bubble Blowers in order to 'find' (tap) them. Compasses and Explorer's Eyes do point out the Bubble Blowers in this position but do not help you tap them. When this problem occurs, the only way to get the Bubble Blowers is using dynamite.
Coming Soon
Ad blocker interference detected!
Wikia is a free-to-use site that makes money from advertising. We have a modified experience for viewers using ad blockers

Wikia is not accessible if you've made further modifications. Remove the custom ad blocker rule(s) and the page will load as expected.