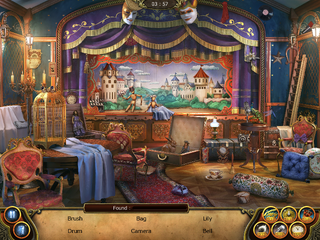 Theater is unlocked through normal game play when a player reaches level 77.
Players can 'pay to play' Theater from level 75 onward, where they can choose to pay with crystals (which will need to be bought with real money) to unlock the Picture early, rather than waiting until they reach level 77 and unlock it for free through normal game play.
Theater was introduced during the Halloween 2014 update.
From the Diary:
"Many years have passed since I was last at the theater. I couldn't find time for it. Suddenly, Christy tells me she's found a new magical photo of Richard's. As I looked at it, my face started shining with happiness! It was a photo of a wonderful theater. No doubt a lot of interesting and exciting adventures are waiting for me in this photo."
Theater is one of the pictures in the game that does not reward any combining elements, but does reward collection items that require a large number of combining elements to combine.
The following is a list of hidden items found in Theater in most modes. Depending on the Picture Level and Game Mode you may not have to find all the items in one visit.  Morphs and Pieces modes have their own items that need to be found, separate from those listed below.
Bag
Bell
Bow
Camera
Clapperboard
Clock
Cup
Dragonfly
Drum
Gloves
Hand Fan ¹
Lily
Lyre
Metronome
Microphone
Mirror
Newspaper
Opera glasses
Poster
Star
Tassel
Ticket
Umbrella
Vase
Vinyl Record
Item Notes:
The Hanami Festival Update (April 2018) made the following changes:
Resource Demands and Rewards for Playing
Edit
Theater is a Collection Item only Picture. This means its list of potential rewards for each play only contains regular Collection Items, mode dependent Collection Items (depending on what mode the Picture is currently in), and Quest Items (if a Quest is currently active for the Picture). The list of potential rewards for Theater is made up of 11 Collections:
When Theater is first opened, and so is on Novice level, only the first 3 items from the Anonymous's treasures collection will be on the list of potential rewards. As the level of the Picture is increased, more and more items will be unlocked as potential rewards.
The amount of energy required to play Theater will increase as the level of the Picture is increased. The experience points and coins rewards for each win of the Picture will also increase to match the increase in resource demands, as will the pool of potential collection item rewards:
Level
Resource Demands
Minimum Resource Rewards
Potential Game Item Rewards Pool
Energy Points
Special Items
Experience Points
Coins
Combining Elements
Collection Items
Novice
76
N/A
260
280
N/A
Golden pen; Hand mirror; Eyeglass case
Trainee
79
N/A
270
290
N/A

+

Jewelry case; Golden watch; Level
Detective
82
N/A
280
300
N/A

+

Reflectors; Lens filters; Lenses
Pro
85
N/A
290
310
N/A

+

Waterproof case; Memory card; Lens hood
High Explorer
88
N/A
300
320
N/A

+

External flash; Screen projector; Stabilizer
Academician
91
N/A
310
330
N/A

+

Cast-iron teapot; Earthenware teapot; Ceramic teapot
Magister
94
N/A
320
340
N/A

+

Glass teapot; Porcelain teapot; The list
Professor
97
N/A
330
350
N/A

+

"Myths and Legends"; "The World of Reflections"; "Mystery of Mirrors"; "Secrets of the Absurd"; Barrette; Hair band; Greek bandeau; Maang tikka; Kanzashi; Mother, Woodcutter, Hunter, Granny, Wolf puppet; Fastening bolt; Mounting bracket; Candelabra bulbs; Decorative vessel; Lampshade
Grand Magister
100
N/A
340
360
N/A

+

Childs bed; Down pillow; Down comforter; Little bedside table; Night light projetor; Compact powder; Lipstick; Mascara; Blush; Palette of eye shadows; Newspaper clipping; Sign; Red ribbon; Attraction ticket; Frozen clock