News
About
Welcome to the The Secret Society - Hidden Mystery Wiki
The Secret Society - Hidden Mystery is a hidden object game from
G5 entertainment AB
(Publisher) and
MyTona
(Author/Developer) available free to download for Mac, Windows, iOS mobile devices, Google Play devices, and Amazon devices:
"The Secret Society is a clandestine community of people with the unique ability to move through magic worlds. Your dear Uncle Richard, an elite member of this ancient order, has suddenly gone missing. After a period of despair, you realize that you too are blessed with these special powers and thus are the only one that can find him! Locate your beloved uncle, protect the sacred Artifact of the Order and thwart the forces threatening the entire society in this fantastic blend of hidden object tasks and puzzles!"
About the Wiki
This wiki is a work in progress. The aim is to provide basic game information for The Secret Society - Hidden Mystery; tutorials on the different aspects of game play; puzzle solutions; information on known problems/glitches; and a record of updates to the game. Currently SS has no in-game tutorial, and only a limited FAQ available on the publishers website. Hopefully one will be provided in a future update to the game, but in the mean time this wiki can help new (and old) players get to grips with the many aspects of the game. Please help out by adding to stub articles and fixing any errors you encounter. The SS community is a fantastic one, and together we can build a wiki as big as the game itself.
Getting Around
Community
Related
Latest Activity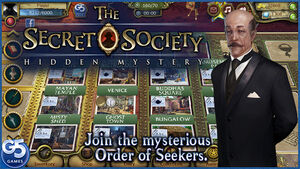 The last 2 updates have been much larger in size and contained substantial content with staggered release, do you like this new system or prefer the old system of more frequent but smaller updates?
Ad blocker interference detected!
Wikia is a free-to-use site that makes money from advertising. We have a modified experience for viewers using ad blockers

Wikia is not accessible if you've made further modifications. Remove the custom ad blocker rule(s) and the page will load as expected.