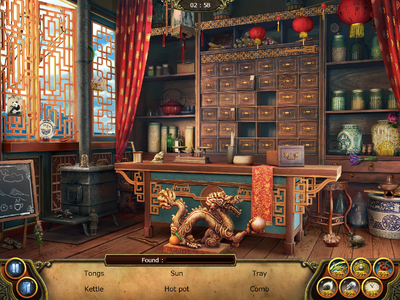 Tea Corner is unlocked when the player reaches level 158.
Tea Corner was introduced during The Legend Returns Update (February 2017). For the duration of the challenge, Jade Crystal special items were needed in addition to energy points to play Tea Corner. Jade Crystals were given as rewards for every successful investigation for every picture, as well as for banishing anomalies, but not for playing puzzles. The Forgotten Story Update (March 2017) removed Jade Crystals from the game and Tea Corner became a free picture only requiring energy to play.
From the Diary:
"Today I was approached by Alfred, who found the pieces of a photo. When we restored it, we saw an old tea shop. Alfred recognized it immediately. Richard was looking for his friend, a person whom he called "the best fellow", for a long time in that shop. He never found him. Is this poor fellow still imprisoned in this shop? We need to find out!"
Tea Corner is one of the pictures in the game that does not reward any combining elements, but does reward collection items that require a large number of combining elements to combine.
The following is a list of hidden items found in Tea Corner in most modes. Depending on the Picture Level and Game Mode you may not have to find all the items in one visit.  Morphs and Pieces modes have their own items that need to be found, separate from those listed below.
Bell
Bracelet
Comb
Crane
Domino tiles ¹
Gong
Hand fan ¹
Kettle
Lavender
Orange
Panda
Plate
Rattle drum ¹
Spatula
Spoon
Sun
Tea branch ¹
Tofu
Tongs
Tray
Warrior figure
Item Notes:
The Hanami Festival Update (April 2018) made the following changes:

Domino tile was renamed Domino tiles
Fan was renamed Hand fan
Rattle was renamed Rattle drum
Tea tree was renamed Tea branch
Resource Demands and Rewards for Playing
Edit
Tea Corner is a Collection Item only Picture. This means its list of potential rewards for each play only contains regular Collection Items, mode dependent Collection Items (depending on what mode the Picture is currently in), and Quest Items (if a Quest is currently active for the Picture). The list of potential rewards for Tea Corner is made up of 11 Collections:
When Tea Corner is first opened, it is at Novice level, and only the first 4 items from the Body language reading collection will be on the list of potential rewards. As the level of the Picture is increased, more and more items will be unlocked as potential rewards.
The amount of energy required to play Tea Corner will increase as the level of the Picture is increased. The experience points and coins rewards for each win of the Picture will also increase to match the increase in resource demands, as will the pool of potential collection item rewards:
Level
Resource Demands
Minimum Resource Rewards
Potential Game Item Rewards Pool
Energy Points
Special Items
Experience Points
Coins
Combining Elements
Collection Items
Novice
127
N/A
450
470
N/A
Imperious look; Confident posture; Crossed arms; Constant habit
Trainee
130
N/A
460
480
N/A

+

Sitting position; File box; Pen holder; The Thinker statuette; Desk pad
Detective
133
N/A
470
490
N/A

+

Paper knife; Quartz watch; Analog watch; Digital watch; Hybrid watch
Pro
136
N/A
480
500
N/A

+

Sports watch; Wind instruments score; Percussion score; Harp score; Bow instruments score
High Explorer
139
N/A
490
510
N/A

+

Vocal score; Photo with a friend; Friendship bracelet; Baseball cap with a bull; Postcard from the wild
Academician
142
N/A
500
520
N/A

+

Medal of bravery; Antique coin; Precious comb; Clay statuette; Encrusted knife; Golden necklace
Magister
145
N/A
510
530
N/A

+

Stone with stars, first people, a ship, spirits, a comet; Indian bow; Marked arrows
Professor
148
N/A
520
540
N/A

+

Obsidian knife; Indian spear; Hunter's cloak; Cap and ball revolver; Jumbo guitar; Tin flask; Wide brim hat; Belt buckle
Grand Magister
151
N/A
530
550
N/A

+

"China", "Cuba", "Morocco", "Iceland", "Australia" postcard; Tea box, Teapot; Teacups; Tea stirrer; Tea table
Note: During the The Legend Returns Update energy demands and experience points/coins rewarded for Tea Corner were lower, since the level to unlock Tea Corner was only level 7.
Coming soon....