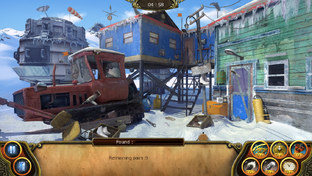 Polar Station is unlocked through normal game play when a player reaches level 17. 
Players can 'pay to play' Polar Station from level 16 onward, where they can choose to pay with crystals (which will need to be bought with real money) to unlock the Picture early, rather than waiting until they reach level 17 and unlock it for free through normal game play.
From the Diary:
"Turns out, Richard even took part in an expedition to the South Pole! Very Brave of him. He led such an interesting life, it makes me sad that I didn't get a chance to know him better. To remember this expedition he left a photograph for me."
The following is a list of hidden items found in Polar Station in most modes. Depending on the Picture Level and Game Mode you may not have to find all the items in one visit.  Morphs and Pieces modes have their own items that need to be found, separate from those listed below.
Antique Radio
Backpack
Binoculars
Boot
Camera ¹
Canteen
Clippers ¹
Coffee Mug
Compass
Earmuffs
Fish
Fish Hook
Flag
Flashlight
Glove
Ice Skates
Knife
Padlock
Penguin Statue
Security Camera
Ski Goggles
Snowman Globe
Snowshoe
Snow Shovel
Sock
Item Notes:
The Hanami Festival Update (April 2018) made the following changes:

Nail Cutters was renamed Clippers
Photo Camera was renamed Camera
Resource Demands and Rewards for Playing
Edit
The amount of energy required to play Polar Station will increase as the level of the Picture is increased. The experience points and coins rewards for each win of the Picture will also increase to match the increase in resource demands, as will the pool of potential collection item rewards.
The pool of rewards available for each successful game of Polar Station contains both Collection Items and Combining Elements:
Level
Resource Demands
Minimum Resource Rewards
Potential Game Item Rewards Pool
Energy Points
Special Items
Experience Points
Coins
Combining Elements
Collection Items
Other
Novice
28
N/A
100
120
N/A
Brazilian stamp
N/A
Trainee
31
N/A
110
130
N/A

+

Australian stamp; Parrot
N/A
Detective
34
N/A
120
140
Spring

+

Chocolate candy; Halva; Fountain pen
N/A
Pro
37
N/A
130
150

+

Steel Spring

+

Ballpoint pen; Country globe; City globe; Drums
Compass
High Explorer
40
N/A
140
160

+

Spiral Spring

+

Strawberries; Plums; Sword; Shield; Throne
Same as Pro
Academician
43
N/A
150
170
Same as High Explorer

+

Soup ladle; Slotted spatula; Mandrake root; Frog eye
Same as Pro
Magister
46
N/A
160
180
Same as High Explorer

+

Molecular kinescope; Magic board; Geographical map; Portolan charts
Same as Pro
Professor
49
N/A
170
190
Same as High Explorer

+

Rorschach inkblot No. 1, No. 2, No. 3, No. 4, No. 5; Pear shaped, Metal, Measuring, Heat resistant, Conical beaker; Expedition photo No. 1, No. 2, No. 3, No. 4, No. 5
Same as Pro
Grand Magister
52
N/A
180
200
Same as High Explorer

+

Set of gloves; Set of forceps; Pack of baggies; Pocket flashlights; Set of sticks; Lever-manipulator; Electric magnet; Tape wheel; Battery; Transmitter
Same as Pro

Note: In addition to the items listed above, other items may also be in the list of potential rewards for a particular play of the picture depending on what game mode it is currently in (e.g. items from the Venetian Masks collection if it is in Text mode) or if there is an active quest involving the picture.