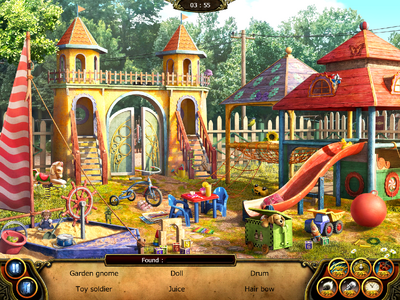 Playground is unlocked through normal game play when a player reaches level 164.
Playground was introduced during the Call from the Depths Update. It is the only Picture added to the game by this Update that was not involved in a Timed Challenge Event.
From the Diary:
"A mysterious envelope with a photo fragment inside was delivered to the Mansion. It was covered with sand, and we barely managed to restore the image, which shows a playground! Who sent this photo, and why?"
Playground is one of the pictures in the game that does not reward any combining elements, but does reward collection items that require a large number of combining elements to combine.
The following is a list of hidden items found in the Playground. Depending on the Picture Level and Game Mode you may not have to find all the items in one visit. Morphs and Pieces modes have their own items that need to be found, separate from those listed below.
Backpack
Bird
Book
Butterfly
Doll
Drum
Garden gnome
Hair bow
Ice cream
Juice
Jump rope
Lollipop
Pencils
Pirate hat
Plush bunny
Rubber duck
Sandals
Spinning top
Stacking toy ¹
Sunflower
Toy plane
Toy soldier
Watering can
Wooden saber
Xylophone
Item Notes:
The Hanami Festival Update (April 2018) made the following changes:

Toy pyramid was renamed Stacking toy
Resource Demands and Rewards for Playing
Edit
Playground is a Collection Item only Picture. This means its list of potential rewards for each play only contains regular Collection Items, mode dependent Collection Items (depending on what mode the Picture is currently in), and Quest Items (if a Quest is currently active for the Picture). The list of potential rewards for the Playground is made up of 7 Collections:
When Playground is first opened, it is at Novice level, and only the items from the Farmer's tools collection will be on the list of potential rewards. As the level of the Picture is increased, more and more items will be unlocked as potential rewards.
The amount of energy required to play the Playground will increase as the level of the Picture is increased. The experience points and coins rewards for each win of the Picture will also increase to match the increase in resource demands:
Level
Resource Demands
Minimum Resource Rewards
Potential Game Item Rewards Pool
Energy Points
Special Items
Experience Points
Coins
Combining Elements
Collection Items
Novice
131
N/A
470
490
N/A
Sickle; Pitchfork; Work mittens; Barrel; Hacksaw
Trainee
134
N/A
480
500
N/A

+

Morning City; Twilight City; Evening City; Midday City; Night City
Detective
137
N/A
490
510
N/A

+

Crystal glass; Crystal pitcher; Crystal tray; Crystal vase; Crystal saucer
Pro
140
N/A
500
520
N/A

+

Thread spool; Pincushion; Seam ripper; Fabric; Sewing scissors
High Explorer
143
N/A
510
530
N/A

+

Fire pit; Thermal mug; Sack of supplies; Monocular; String with a bell
Academician
146
N/A
520
540
N/A

+

Apple block; Lion block; Ice cream block; Cat block; Elephant block
Magister
149
N/A
530
550
N/A

+

White stain; Yellow stain; Red stain; Blue stain; Green stain
Professor
152
N/A
540
560
N/A
Same as Magister
Grand Magister
155
N/A
550
570
N/A
Same as Magister
Coming soon....