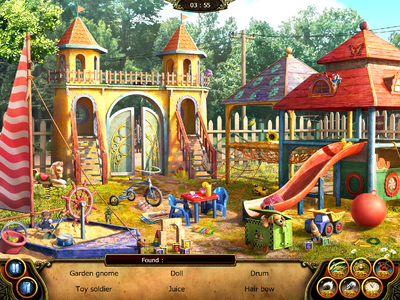 Playground is unlocked through normal game play when a player reaches level 164.
Playground was introduced during the Call from the Depths Update. It is the only Picture added to the game by this Update that was not involved in a Timed Challenge Event.
From the Diary:
"A mysterious envelope with a photo fragment inside was delivered to the Mansion. It was covered with sand, and we barely managed to restore the image, which shows a playground! Who sent this photo, and why?"
Playground is one of the 30 pictures in the game that does not reward any combining elements, but does reward collection items that require a large number of combining elements to combine.
The following is a list of hidden items found in the Playground. Depending on the Picture Level and Game Mode you may not have to find all the items in one visit.
Morphs and Pieces modes have their own items that need to be found, separate from those listed above.
Rewards for Playing
Edit
Playground is a Collection Item only Picture. This means its list of potential rewards for each play only contains regular Collection Items, mode dependent Collection Items (depending on what mode the Picture is currently in), and Quest Items (if a Quest is currently active for the Picture). The list of potential rewards for the Playground is made up of 7 Collections added by the Call from the Depths Update.

When Playground is first opened, it is at Novice level, and only the items from the Farmer's tools collection will be on the list of potential rewards. As the level of the Picture is increased, more and more items will be unlocked as potential rewards.
The amount of energy required to play the Playground will increase as the level of the Picture is increased. The experience points and coins rewards for each win of the Picture will also increase to match the increase in resource demands.
Coming soon....
Ad blocker interference detected!
Wikia is a free-to-use site that makes money from advertising. We have a modified experience for viewers using ad blockers

Wikia is not accessible if you've made further modifications. Remove the custom ad blocker rule(s) and the page will load as expected.