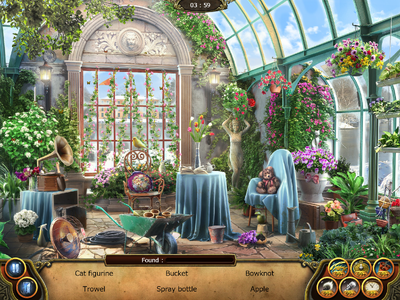 Orangery is unlocked when the player reaches level 152.
Orangery was introduced during the Winter's Tale Update (January 2017). For the duration of the challenge, Rare Flower special items were needed in addition to energy points to play Orangery. Rare Flowers were given as rewards for every successful investigation for every picture, as well as for banishing anomalies, but not for playing puzzles. The Forgotten Story Update (March 2017) removed Rare Flowers from the game and Orangery became a free picture only requiring energy to play.
From the Diary:
"Howard decided to experiment and tried to make his own magical photo. Unfortunately, it immediately broke into pieces. Of course, I was able to restore it. But what amazed me the most is that the Mansion has its own winter garden! Now I can explore it at my desk without losing my focus on other things. That's a real piece of summer in the cold winter."
Orangery is one of the pictures in the game that does not reward any combining elements, but does reward collection items that require a large number of combining elements to combine.
The following is a list of hidden items found in Orangery in most modes. Depending on the Picture Level and Game Mode you may not have to find all the items in one visit.  Morphs and Pieces modes have their own items that need to be found, separate from those listed below.
Apple
Ball of string
Bird
Bottle
Bow ¹
Bucket
Butterfly net
Candle
Cat figurine
Eyeglasses ¹
Flag
Flute
Gloves
Hat
Pocketknife
Postcard
Pruning shears
Rake
Rose
Saucer
Seed packet
Spray bottle
Teacup
Tools
Trowel
Item Notes:
The Hanami Festival Update (April 2018) made the following changes:

Bowknot was renamed Bow
Glasses was renamed Eyeglasses
Resource Demands and Rewards for Playing
Edit
Orangery is a Collection Item only Picture. This means its list of potential rewards for each play only contains regular Collection Items, mode dependent Collection Items (depending on what mode the Picture is currently in), and Quest Items (if a Quest is currently active for the Picture). The list of potential rewards for Orangery is made up of 11 Collections:
When Orangery is first opened, it is at Novice level, and only the first 4 items from the Key of things collection will be on the list of potential rewards. As the level of the Picture is increased, more and more items will be unlocked as potential rewards.
The amount of energy required to play Orangery will increase as the level of the Picture is increased. The experience points and coins rewards for each win of the Picture will also increase to match the increase in resource demands, as will the pool of potential collection item rewards:
Level
Resource Demands
Minimum Resource Rewards
Potential Game Item Rewards Pool
Energy Points
Special Items
Experience Points
Coins
Combining Elements
Collection Items
Novice
123
N/A
430
450
N/A
Amulet of sunset; Medaillon of shearwater; Shield of dawn; Collar of the sun
Trainee
126
N/A
440
460
N/A

+

Necklace of the seas; Kaleidoscope cylinder; Mirror prism; Hardstones
Detective
129
N/A
450
470
N/A

+

Sapphire disk; Glass lens; External disk; Upper disk
Pro
132
N/A
460
480
N/A

+

Middle disk; Lower disk; Ornament of power; Mechanical bird
High Explorer
135
N/A
470
490
N/A

+

Mechanical monkey; Mechanical bee; Mechanical fish; Mechanical mouse
Academician
138
N/A
480
500
N/A

+

Chaise lounge; Terry blanket; Aspirin; Cold compress; Herbal decoction
Magister
141
N/A
490
510
N/A

+

Human eyes; Feline eyes; Wolf eyes; Monkey eyes; Owl eyes
Professor
144
N/A
500
520
N/A

+

Golden spoon, fork, soup spoon, knife, dessert spoon; Brazilian coffee; Vanilla sugar; Ground cloves; Ground cinnamon; Orange zest; Gnome with a flashlight, broom, rake, basket, water can
Grand Magister
147
N/A
510
530
N/A

+

Ice swan, deer, butterfly, horse, peacock; Cloth for plaid; Embroidered "Snowflake", "Reindeer", "Santa", "Present"
Note: During the Winter's Tale Update and the following The Legend Returns Update energy demands and experience points/coins rewarded for Orangery were lower, since the level to unlock Orangery was only level 7.
Coming soon....