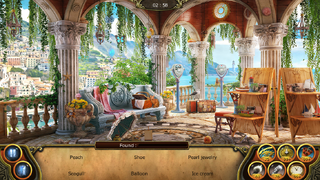 Observation Deck is unlocked when the player reaches level 92 (Originally level 7).
Players can 'pay to play' Observation Deck from level 90 onward, where they can choose to pay with crystals (which will need to be bought with real money) to unlock the Picture early, rather than waiting until they reach level 92 and unlock it for free through normal game play.
Observation Deck was introduced during the Travel Time Update (July 2015). Observation Deck is a special item picture, which means that a set number of special items are needed in addition to energy points for each play. The special items needed for Observation Deck are Tokens. The number of Tokens needed for each play of Observation Deck depends on the picture's scene progress level, starting at 5 Tokens per play at Trainee level and increasing by 5 for each new level; ending at 45 Tokens per play at Grand Magister level.
Mac players did not receive the Travel Time Update.  Observation Deck was included in the Halloween 2015 Update.
When Observation Deck was originally introduced, it formed part of the Travel Time Update's Timed Challenges.  Players needed to reach Academician Level in Observation Deck before the timer ran out. For the duration of the timed challenges,Tokens are given as rewards for every successful investigation for every picture, as well as for banishing anomalies, but not for playing puzzles.
Once the timed challenges are complete or when the timer runs out (whichever happens first), the Tokens can only be won in Crashed Plane and Mayan Temple. Tokens could not be gifted between Friends, however 5 Travel Time collections give them as rewards for combining.
With the release of the Social Events Update, Observation Deck remained a regular special item picture, so now Tokens will always be needed, in addition to energy points, for each play of the picture. Tokens remain restricted to the Mayan Temple and Crashed Plane pictures, but can now be given as Free Gifts between Friends (like the other special items) for players who have updated to the Social Events Update. The collections that rewarded Tokens during the Travel Time Update have been changed so that they now reward other items from the game, so there are now no collections that reward Tokens in the Social Events Update version of the game. Note: players who have not updated to the Social Events update still cannot gift Tokens, but they can receive Tokens as gifts from players who have updated.
From the Diary:
"I really like Richard's photographs that depict the sea. I don't often manage to escape from the city bustle and relax on a sandy beach under the warm sun, breathing in the fresh ocean breeze. Richard's photographs fix this problem 100 percent! I am able to visit incredible places! Today, Christy cheered me up once again, as we have found a new photo of Richard's "Observation Deck". The photograph is a wonderful look at the sea from a bird's-eye view. I think that this photo will take a worthy place among my favorites in the collection!."
Observation Deck is one of the pictures in the game that does not reward any combining elements, but does reward collection items that require a large number of combining elements to combine.
The following is a list of hidden items found in Observation Deck. Depending on the Picture Level and Game Mode you may not have to find all the items in one visit. Morphs and Pieces modes have their own items that need to be found, separate from those listed below.
Album
Balloon
Binoculars
Bow
Butterfly
Cat
Cocktail
Cup of Tea
Easel
Grape
Hand fan
Ice cream
Peach
Pearl Necklace¹
Piece of Amber
Seagull
Shell
Shoe
Starfish
Sunglasses
Teddy bear
Wind chime
Women's hat
Vase
Item Notes:
The Hanami Festival Update (April 2018) made the following changes:

Pearl Jewelry was renamed Pearl Necklace
Resource Demands and Rewards for Playing
Edit
Observation Deck is a Collection Item only Picture. This means its list of potential rewards for each play only contains regular Collection Items, mode dependent Collection Items (depending on what mode the Picture is currently in), and Quest Items (if a Quest is currently active for the Picture). The list of potential rewards for Observation Deck is made up of 11 Collections:
When Observation Deck is first opened, and so is on Novice level, only the first 4 items from the Golden statuettes collection will be on the list of potential rewards. As the level of the Picture is increased, more and more items will be unlocked as potential rewards.
The amount of energy required to play Observation Deck will increase as the level of the Picture is increased. The experience points and coins rewards for each win of the Picture will also increase to match the increase in resource demands, as will the pool of potential collection item rewards:
Level
Resource Demands
Minimum Resource Rewards
Potential Game Item Rewards Pool
Energy Points
Special Items
Experience Points
Coins
Combining Elements
Collection Items
Novice
85
5 Tokens
290
310
N/A
Golden peacock; Golden cat; Golden tree; Golden fox
Trainee
88
10 Tokens
300
320
N/A

+

Golden rose; Velites; Hastatus; Princeps
Detective
91
15 Tokens
310
330
N/A

+

Triarius; Cavalryman; London plate; Moscow plate
Pro
94
20 Tokens
320
340
N/A

+

Ankara plate; Seoul plate; Buenos Aires plate; Ground coffee
High Explorer
97
25 Tokens
330
350
N/A

+

Vanilla bean ice cream; Cane sugar; Grated chocolate; Powdered sugar
Academician
100
30 Tokens
340
360
N/A

+

Knit shawl; Red cloak; Beaded bag; Gloves with flowers
Magister
103
35 Tokens
350
370
N/A

+

Hat with a pompom; Oval stones; Jadeite stones; Crescent eye stones
Professor
106
40 Tokens
360
380
N/A

+

Miniature stones; Marble stones; LED spotlight; Metal halide lamp; Xenon arc spotlight; Sodium-vapor spotlight; Mercury spotlight; Gyeongbokgung Palace; Namsan Tower; 69 Building; Banpo Bridge; Namsan Mountain; Space suit; Rocket; Earth; Comet; Ursa Major (Great Bear)
Grand Magister
109
45 Tokens
370
390
N/A

+

Old valise; Diary; Photo lab key; Business cards; Pack of hard candies; Summer shorts; Beach socks; Summer t-shirt; Volleyball; Volleyball net
Note: The energy demands and experience points/coins rewarded for Observation Deck have been changed by the Social Events Update, since the level to unlock Observation Deck has been increased from 7 to 92 and higher unlocking level Pictures tend to have higher energy demands, higher experience points and coins rewards, and slower rates of % progress for each play at the Novice - Pro levels.
The Camellia is a pink flower head
The 'Grape' is a bunch of grapes not a single grape