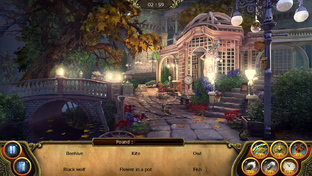 Night Garden is unlocked through normal game play when a player reaches level 29.
Players can 'pay to play' Night Garden from level 27 onward, where they can choose to pay with crystals (which will need to be bought with real money) to unlock the Picture early, rather than waiting until they reach level 29 and unlock it for free through normal game play.
Night Garden is one of four regular pictures that require special items to play. In addition to energy points, a certain number of fireflies are required for each play of Night Garden.The number of Fireflies needed depends on the level the picture is at. Fireflies can be given as rewards for successfully investigating Palatial Office, given as daily bonus rewards for visiting friends, given out by the Friendliness award (if charged by a visiting friend), given out by Sphere of Miracles award, given out by the Pyramid of Wonder award and given as rewards for combining certain collections. Carrots required to play the Illusionist's Room can be given as rewards for successful investigations of Night Garden (from Detective Level onward). From the Diary:
"Christy was right. This garden - it's a wonderful corner to retreat to after a wearisome workday."
The following is a list of hidden items found in Night Garden. Depending on the Picture Level and Game Mode you may not have to find all the items in one visit.
Angel
Basket
Beehive
Bicycle
Bird's Nest
Black Wolf
Book
Broom
Bucket
Fish
Flower in a Pot
Frog
Grapes
Hours
Kite
Mushroom
Owl
Rake
Snake
Squirrel
Starling House
Step-Ladder
Umbrella
Watering Can
Morphs and Pieces modes have their own items that need to be found, separate from those listed above.
Resource Demands and Rewards for Playing
Edit
The amount of energy and Fireflies Special Items required to play Night Garden will increase as the level of the Picture is increased. The experience points and coins rewards for each win of the Picture will also increase to match the increase in resource demands, as will the pool of potential collection item rewards.
The pool of rewards available for each successful game of Night Garden contains both Collection Items and Combining Elements:
Level
Resource Demands
Minimum Resource Rewards
Potential Game Item Rewards Pool
Energy Points
Special Items
Experience Points
Coins
Combining Elements
Collection Items
Other
Novice
46
5 fireflies
160
180
Treble Clef
Loch Ness Monster; Yeti; Chupacabra; Huge octopus; Alien; Black tea
N/A
Trainee
49
10 fireflies
170
190

+

Bass Clef

+

Scarlett; Wendy; Eloise; Betty; Alice; Green tea
Carrot (Special Item)
Detective
52
15 fireflies
180
200

+

Alto Clef

+

Arab dancer; Hula dancer; Geisha; Angel; Christmas box; Red tea
Same as Trainee
Pro
55
20 fireflies
190
210

+

Sharp

+

Napoleon (2); Cheesecake; Tiramisu; Eclair; Brownie; Chamomile (1)
Same as Trainee
High Explorer
58
25 fireflies
200
220

+

Flat

+

Silver crest; Pea; Sun Umbrella; Carriage; Fan; Mushroom tea
Same as Trainee
Academician
61
30 fireflies
210
230
Same as High Explorer

+

Glass of milk; Porridge flakes; Butter; Sugar; Salt
Same as Trainee
Magister
64
35 fireflies
220
240
Same as High Explorer

+

Overhead projector frame; Reflector; Overhead projector lens; Paper holder; Screen
Same as Trainee
Professor
67
40 fireflies
230
250
Same as High Explorer
Same as Magister
Same as Trainee
Grand Magister
70
45 fireflies
240
260
Same as High Explorer
Same as Magister
Same as Trainee
Note: In addition to the items listed above, other items may also be in the list of potential rewards for a particular play of the picture depending on what game mode it is currently in (e.g. items from the Venetian Masks collection if it is in Text mode) or if there is an active quest involving the picture.
Coming Soon
Ad blocker interference detected!
Wikia is a free-to-use site that makes money from advertising. We have a modified experience for viewers using ad blockers

Wikia is not accessible if you've made further modifications. Remove the custom ad blocker rule(s) and the page will load as expected.