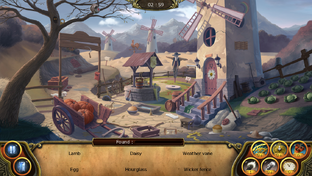 Mill is unlocked through normal game play when a player reaches level 35.
Players can 'pay to play' Mill from level 33 onward, where they can choose to pay with crystals (which will need to be bought with real money) to unlock the Picture early, rather than waiting until they reach level 35 and unlock it for free through normal game play.
Mill is the only painting currently available to investigate in the game. The Mill is one of five regular pictures that require special items to play. In addition to energy points, a certain number of Ladybugs are required for each play of Mill.The number of Ladybugs needed depends on the level the picture is at. Ladybugs can be given as rewards for successfully investigating Ancient Library, given as daily bonus rewards for visiting friends, given out by Sphere of Miracles award, given out by the Pyramid of Wonder award and given as rewards for combining certain collections. Carrots required to play the Illusionist's Room can be given as rewards for successful investigations of Mill (from Detective Level onward). From the Diary:
"I finally restored the picture with the mills. Besides for them, high mountains can be seen in the distance. A beautiful painting. But it has been two hundred years since the Order has used paintings for the magical quet. Honestly, this will be my first experience of entering a painting. The magic picture still looks like a reality, but I wonder what feelings are waiting for me inside the picture?"
The following is a list of hidden items found in Mill. Depending on the Picture Level and Game Mode you may not have to find all the items in one visit. Morphs and Pieces modes have their own items that need to be found, separate from those listed below.
Anvil
Bagpipe
Bench
Bread
Milk Can
Butterfly
Checkered Shirt
Daisy
Doghouse
Egg
Horse
Hourglass
Lamb
Lock
Mitten¹
Pitchfork
Rainbow
Ribbon
Sheaf of wheat¹
Sickle
Straw Hat
Turkey
Weather Vane
Wicker Fence
Wreath
Item Notes:
The Hanami Festival Update (April 2018) made the following changes:

Bundle of Spikes was renamed Sheaf of wheat
Work Glove was renamed Mitten
Resource Demands and Rewards for Playing
Edit
The amount of energy and Ladybug Special Items required to play Mill will increase as the level of the Picture is increased. The experience points and coins rewards for each win of the Picture will also increase to match the increase in resource demands, as will the pool of potential collection item rewards.
The pool of rewards available for each successful game of Mill contains both Collection Items and Combining Elements:
Note: In addition to the items listed above, other items may also be in the list of potential rewards for a particular play of the picture depending on what game mode it is currently in (e.g. items from the Venetian Masks collection if it is in Text mode) or if there is an active quest involving the picture.
The 'Bundle of Spikes' resembles a sheaf of wheat, and the 'Work Glove' resembles an oven mitt.