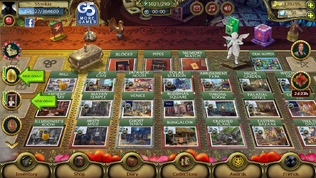 The following is a list of currently available pictures in the Secret Society : Hidden Mystery game.
An explanation of the different Picture Modes can be found here.
List of Pictures
Edit
There are 55 pictures available to investigate. You can see these pictures laid out on the Home Desktop. At the beginning of a new game only one picture, 'Venice' is unlocked. Progressing through the game unlocks additional pictures.
Room Images:
Edit
Special Item Pictures
Edit
Some pictures require special items as well as energy points in order to play them.
New pictures added as part of Holiday Updates may have special item requirements for the duration of the Holiday Challenges. These special item requirements may be lifted during the next update, after which the pictures will only require energy points to play them like regular pictures.
Ad blocker interference detected!
Wikia is a free-to-use site that makes money from advertising. We have a modified experience for viewers using ad blockers

Wikia is not accessible if you've made further modifications. Remove the custom ad blocker rule(s) and the page will load as expected.