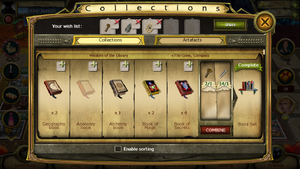 Below is a complete list of collections currently available in the game that includes each item needed to combine that collection.
To see the version of this list that does not contain images of all the Collection items, see the List of Collection Items article. That page may be easier to load and navigate than this version, which contains pictures of every Collection item in the game.
In reference to this page, each collection is listed in the order they were added to the game and the Collection Number is provided here.
Use the 'find' function on your browser to search for collection items to find their corresponding collection. Follow the links to the individual pages on each collection to get more details about them.
Any collection whose items cannot be added to your wish list or given as gifts to your friends are marked with a light blue background in the table. All other collections, with light grey backgrounds can both be added to your wishlist and sent to your friends as gifts.
Note: This table is very large because it lists each collection item within each collection. This is to enable people to search for a collection based on the name of a collection item they have found or are looking for as part of a quest. Use the List of Collections page if you already know the name of the collection you are looking for and are simply looking for information on the rewards for combining the collection or combining element requirements. For a complete list of combining element requirements, use the List of Combining Element Requirements page, and for a complete list of locations that collection items can be found in the game (including quest locations), use the List of Collection Item Locations page.
Note 2: Some items in the game share the same name with another item from a different collection. These items are numbered in the list based on when they were introduced to the game. Any item with a (1) or (2) after the item's name indicates that another item from a different collection is called the same thing. Two different collections are called 'Magical Ingredients' and these are also indicated with a (1) and a (2).
List of Collections
Edit
As of the Sweet Venture Update (November 2017), there are 656 collections in the game.
Notes and Historical Information
Edit
In addition to the awards listed above, you also earn clock parts for combining collections. Clock parts are combining elements required to combine artefacts.
The Significant weight reward was originally designated as "Much weight". At this time, the update version for this change is unknown.
Ad blocker interference detected!
Wikia is a free-to-use site that makes money from advertising. We have a modified experience for viewers using ad blockers

Wikia is not accessible if you've made further modifications. Remove the custom ad blocker rule(s) and the page will load as expected.