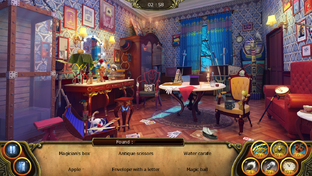 Illusionist's Room is unlocked through normal game play when a player reaches level 41.
Players can 'pay to play' Illusionist's Room from level 39 onwards, where they can choose to pay with crystals (which will need to be bought with real money) to unlock the Picture early, rather than waiting until they reach level 41 and unlock it for free through normal game play.
Illusionist's Room is one of five regular pictures that require special items to play. In addition to energy points, a certain number of Carrots are required for each play of Illusionist's Room.The number of Carrots needed depends on the level the picture is at. Carrots can be given as rewards for successfully investigating Misty Shed, Night Garden, Eastern Bazaar, and Mill, given out by Sphere of Miracles award, given out by the Pyramid of Wonder award and given as rewards for combining certain collections. From the Diary:
"I was always curious to see what was backstage at the Illusionist's act. And now the next magical photo gives me the chance to look at the Illusionist's Room! There are almost all of the Illusionist's accessories and devices that he uses during his performances. I wonder if he is a real illusionist."
The following is a list of hidden items found in the Illusionist's Room in most modes. Depending on the Picture Level and Game Mode you may not have to find all the items in one visit.  Morphs and Pieces modes have their own items that need to be found, separate from those listed below.
Ace of Spades
Antique Scissors
Apple
Bent Spoon
Bottle of Poison
Bow Tie
Butterfly
Comb
Dove ¹
Egg
Envelope with a Stamp
Lighter
Magic Ball
Magician's Box
Magnet
Medallion
Prism
Pocket Watch
Rabbit
Shackles
Shoe
Skein of Fishing Line
Wand
Water Carafe
White Rose
Item Notes:
The Hanami Festival Update (April 2018) made the following changes:
Resource Demands and Rewards for Playing
Edit
The amount of energy and Carrot Special Items required to play Illusionist's Room will increase as the level of the Picture is increased. The experience points and coins rewards for each win of the Picture will also increase to match the increase in resource demands, as will the pool of potential collection item rewards. The list of potential collection item rewards for Illusionist's Room is made up of 10 Collections:
The pool of rewards available for each successful game of Illusionist's Room contains both Collection Items and Combining Elements:
Level
Resource Demands
Minimum Resource Rewards
Potential Game Item Rewards Pool
Energy Points
Special Items
Experience Points
Coins
Combining Elements
Collection Items
Novice
58
5 carrots
200
220
Treble Clef
Temperature sensor; Sound sensor; Smoke detector; Emerald crystal; Magical pyramid; Multigrid visor
Trainee
61
10 carrots
210
230

+

Bass Clef; Alto Clef

+

Security camera; Remote control; Mousetrap; Ruby crystal; Magical cube; Infared laser
Detective
64
15 carrots
220
240

+

Sharp; Flat

+

Net; Throw net; Birdcage; Sapphire crystal; Magical cone; Low-frequency sensor
Pro
67
20 carrots
230
250
Same as Detective

+

Lasso; Silver bell; Gold bell; Amethyst crystal; Magical prism; Aluminum antenna
High Explorer
70
25 carrots
240
260
Same as Detective

+

Porcelain bell; Crystal bell; Ceramic bell; Diamond crystal; Magical cylinder; Gas sensor
Academician
73
30 carrots
250
270
Same as Detective

+

Clown; Acrobat; Illusionist; Fakir; Juggler
Magister
76
35 carrots
260
280
Same as Detective

+

Decoding lens; Thin frames; Fasteners; Chain; Clip
Professor
79
40 carrots
270
290
Same as Detective

+

Woman in blue dress, red dress, pink dress, yellow dress, purple dress
Grand Magister
82
45 carrots
280
300
Same as Detective

+

Witch; Skeleton; Ghost; Headless horseman; Wicked queen
Note: In addition to the items listed above, other items may also be in the list of potential rewards for a particular play of the picture depending on what game mode it is currently in (e.g. items from the Venetian Masks collection if it is in Text mode) or if there is an active quest involving the picture.
Coming Soon