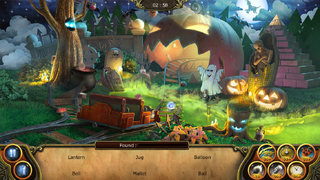 Haunted Attraction is unlocked when the player reaches level 140.
Haunted Attraction was introduced during the Harvest and Halloween Update's second Timed Challenge Event "Celebration of the Spirits" (October 2016). When the Update was first released, Haunted Attraction was hidden, and did not appear on player's boards until the Celebration of the Spirits Timed Challenges began. This was the second time that content installed on a device by an update file was set to be hidden until a pre-determined date, and was used as a way to have two separate Timed Challenge Events installed at the same time, with staggered start dates.
For the duration of this Update, Haunted Attraction could be opened from level 7 onward to allow all players to take part in the update's timed challenges.
Pumpkin Lantern special items were needed in addition to energy points to play Haunted Attraction. While the Celebration of the Spirits Timed Challenges were still active, Pumpkin Lanterns were given as rewards for every successful investigation for every picture, and as rewards for banishing Anomalies, but not for playing puzzles. After the timed challenges ended (either a player completes all of the challenges, or the timer expires, whichever happened first), Pumpkin Lanterns were restricted so that they are only won by playing Japanese House and Bungalow.
With the Introduction of the Magic Tour and Christmas Update (November 2016), Pumpkin Lanterns were completely removed from the game. They were no longer required to play Haunted Attraction, which became a regular Picture that just requires energy points to play. Any leftover Pumpkin Lanterns in a player's Inventory were automatically converted, in equal parts, to the regular special items in the game (Fireflies, Ladybugs, Carrots, Cupid Arrows, and Tokens) and the collections that used to reward Pumpkin Lanterns as rewards for combining them during the Harvest and Halloween Update had their rewards changed to regular game items.
From the Diary:
"Today something rather astonishing happened. Christy reported that a big black crow had appeared on her window sill, holding some pieces in its beak. When the crow cawed, they scattered all over the room. Later we realized they were fragments of a magic photo! It features a scary haunted attraction. But the strangest thing is the message scratched on the back of the photo: "Come if you're not afraid." Is this a Halloween joke - or a real invitation?"
Haunted Attraction is one of the pictures in the game that does not reward any combining elements, but does reward collection items that require a large number of combining elements to combine.
The following is a list of hidden items found in Haunted Attraction. Depending on the Picture Level and Game Mode you may not have to find all the items in one visit.
Apple
Bag
Ball
Balloon
Bell
Book
Boot
Broom
Butterfly
Chest
Crystal ball
Doll
Jug
Lantern
Lollipop
Mallet
Mushroom
Owl
Raven
Rose
Scissors
Shovel
Watermelon
Witch hat
Wreath
Morphs and Pieces modes have their own items that need to be found, separate from those listed above.
Resource Demands and Rewards for Playing
Edit
Haunted Attraction is a Collection Item only Picture. This means its list of potential rewards for each play only contains regular Collection Items, mode dependent Collection Items (depending on what mode the Picture is currently in), and Quest Items (if a Quest is currently active for the Picture). The list of potential rewards for Haunted Attraction is made up of 11 Collections:
When Haunted Attraction is first opened, and so is on Novice level, only the first 4 items from the Multifaceted picture collection will be on the list of potential rewards. As the level of the Picture is increased, more and more items will be unlocked as potential rewards.
The amount of energy required to play Haunted Attraction will increase as the level of the Picture is increased. The experience points and coins rewards for each win of the Picture will also increase to match the increase in resource demands, as will the pool of potential collection item rewards:
Level
Resource Demands
Minimum Resource Rewards
Potential Game Item Rewards Pool
Energy Points
Special Items
Experience Points
Coins
Combining Elements
Collection Items
Novice
115
N/A
390
410
N/A
Winter fort; Spring sea; Summer grove; Autumn in the country
Trainee
118
N/A
400
420
N/A

+

The Twilight Mountains; Figurines of Founders; Model castle; Dungeon; Mighty guard
Detective
121
N/A
410
430
N/A

+

Secret lock; Lock puzzle; Wooden block puzzle; Jigsaw puzzle; Puzzle with rings
Pro
124
N/A
420
440
N/A

+

Puzzle with ropes; Dodecahedron; Icosahedron; Octahedron; Tetrahedron
High Explorer
127
N/A
430
450
N/A

+

Cube; Advertising page; Tire track; License plate; GPS tracker
Academician
130
N/A
440
460
N/A

+

Car key; Walkie-talkie; Tactical flashlight; Clipper knife; Telescopic baton; Stun gun
Magister
133
N/A
450
470
N/A

+

Cuckoo clock; Old TV set; Cracked mirror; Audio tape recorder; Sewing machine; Engine structure; Air duct circuit
Professor
136
N/A
460
480
N/A

+

Body description; Magnetron location; Vacuum location; Sandwich; Lunchbox with dinner; The Order's magazine; Disc for a TV series; Ice cream bucket
Grand Magister
139
N/A
470
490
N/A

+

"Skeleton", "Scarecrow", "Vampire", "Werewolf", "Ghost puppet"; Mischievous, Curious, Angry, Timid, Sad spirit
Note: During the Harvest Festival and Halloween Update energy demands and experience points/coins rewarded for Haunted Attraction were lower, since the level to unlock Haunted Attraction was only level 7.
coming soon....