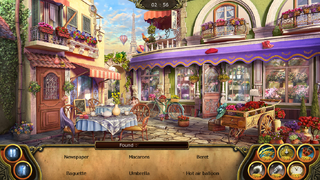 Flower Shop is unlocked through normal game play when a player reaches level 87.
Players can 'pay to play' Flower Shop from level 85 onward, where they can choose to pay with crystals (which will need to be bought with real money) to unlock the Picture early, rather than waiting until they reach level 87 and unlock it for free through normal game play.
Flower Shop was introduced during the Spring 2015 Update.
From the Diary:
"Christy told me about a photo from Richard's collection, which he made during a walk through Paris. Richard had found a cozy cafe, in front of which stood a beautiful flower shop. I liked this photo so much and, in a moment, it was lying on my table. Yes, Christy was right. 'Flower Shop' is an amazing photo. A charming street hidden in the center of a huge metropolis. The noise of the city disappears and only quiet echoes of car horns reach my ears. The pleasant scent of flowers permeates from the open door of the flower shop, creating the atmosphere of early spring. No doubt this photo will become a highlight in my collection of magical photos."
Flower Shop is one of the pictures in the game that does not reward any combining elements, but does reward collection items that require a large number of combining elements to combine.
The following is a list of hidden items found in Flower Shop. Depending on the Picture Level and Game Mode you may not have to find all the items in one visit. Morphs and Pieces modes have their own items that need to be found, separate from those listed below.
Accordion
Baguette
Ball
Beret
Dog¹
Gift
Grapes
Harmonica
Hot-air balloon¹
Jug¹
Newspaper
Notebook
Palette
Perfume
Porcelain doll
Purse
Rooster
Round box
Rubber Boots
Stick horse
Umbrella
Violin
Watering can
Windmill¹
Item Notes:
The Hanami Festival Update (April 2018) made the following changes:

Clay Jug was renamed Jug
Lap Dog was renamed Dog
Mill was renamed Windmill
Hot air balloon was renamed Hot-air balloon
Resource Demands and Rewards for Playing
Edit
Flower Shop is a Collection Item only Picture. This means its list of potential rewards for each play only contains regular Collection Items, mode dependent Collection Items (depending on what mode the Picture is currently in), and Quest Items (if a Quest is currently active for the Picture). The list of potential rewards for Flower Shop is made up of 11 Collections:
When Flower Shop is first opened, and so is on Novice level, only the first 3 items from the Warm gear collection will be on the list of potential rewards. As the level of the Picture is increased, more and more items will be unlocked as potential rewards.
The amount of energy required to play Flower Shop will increase as the level of the Picture is increased. The experience points and coins rewards for each win of the Picture will also increase to match the increase in resource demands, as will the pool of potential collection item rewards:
Level
Resource Demands
Minimum Resource Rewards
Potential Game Item Rewards Pool
Energy Points
Special Items
Experience Points
Coins
Combining Elements
Collection Items
Novice
82
N/A
280
300
N/A
Mittens; Knitted socks; Knitted scarf
Trainee
85
N/A
290
310
N/A

+

Boots with fur; Winter coat; Grapefruit
Detective
88
N/A
300
320
N/A

+

Pomegranate; Mango; Papaya
Pro
91
N/A
310
330
N/A

+

Sweet cherries; Dark blue scarab; Green scarab
High Explorer
94
N/A
320
340
N/A

+

Red scarab; Light blue scarab; Black scarab
Academician
97
N/A
330
350
N/A

+

Piece of vase No. 1; Piece of vase No. 2; Piece of vase No. 3
Magister
100
N/A
340
360
N/A

+

Piece of vase No. 4; Piece of vase No. 5; Coffee beans
Professor
103
N/A
350
370
N/A

+

Coffee mill; Cezve; Fresh berries; Whipped cream; Jiaozi; Wonton Noodle Soup; Kung Pao Chicken; Mooncake; Pu-erh Tea; Elderberry twig; Willow tree; Burdock root; Chamomile; Oats; Feather duster; Rag; Scissors; Sharp blade; Handheld vacuum cleaner
Grand Magister
106
N/A
360
380
N/A

+

Temples; Rim of glasses; Emerald lenses; Additional lenses; Rubber band; Living room, Kitchen, Stairs, Pantry, Basement shot; Rose, Carnation, Jasmine, Magnolia, Cherry seedlings
coming soon...