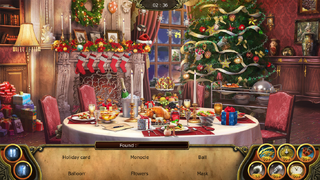 Festive Dinner is unlocked when the player reaches level 149.
Festive Dinner was introduced during the Magic Tour and Christmas Update's second Timed Challenge, the "Christmas Time Event" (December 2016). When the Update was first released, Festive Dinner was hidden, and did not appear on player's boards until the Christmas 2016 Timed Challenges began. This was the third time that content installed on a device by an update file was set to be hidden until a pre-determined date, and was used as a way to have two separate Timed Challenge Events installed at the same time, with staggered start dates.
For the duration of this Update, Festive Dinner could be opened from level 7 onward to allow all players to take part in the update's timed challenges.
Christmas Balls special items were needed in addition to energy points to play Festive Dinner. While the Christmas Time Timed Challenges were still active, Christmas Balls were given as rewards for every successful investigation for every picture, and as rewards for banishing Anomalies, but not for playing puzzles. The Winter's Tale Update (January 2017) removed Christmas balls from the game and Festive Dinner became a free picture only requiring energy to play.
From the Diary:
"Today Christy told me an unexpected piece of news. It turns out Richard gave her an envelope and made her promise to open it before Christmas. The time has come, so we pulled out a photo of my uncle's last Christmas in the Mansion. It's my chance to get to know Richard better and imagine that he is here with us."
Festive Dinner is one of the pictures in the game that does not reward any combining elements, but does reward collection items that require a large number of combining elements to combine.Items
The following is a list of hidden items found in Festive Dinner. Depending on the Picture Level and Game Mode you may not have to find all the items in one visit. Morphs and Pieces modes have their own items that need to be found, separate from those listed below.
Angel Statue
Ball
Balloon
Bear
Bells
Calendar
Camera
Candy Cane
Chocolate
Clock
Fire Cracker
Flowers
Holiday Card
Lucky Horseshoe
Mask
Mittens
Monocle
Muffin
Necklace
Paper Lantern
Perfume¹
Piece of Cake
Reindeer
Santa Hat
Snowman
Item Notes:
The Hanami Festival Update (April 2018) made the following changes:

Bottle was renamed Perfume
Resource Demands and Rewards for Playing
Edit
Festive Dinner is a Collection Item only Picture. This means its list of potential rewards for each play only contains regular Collection Items, mode dependent Collection Items (depending on what mode the Picture is currently in), and Quest Items (if a Quest is currently active for the Picture). The list of potential rewards for Festive Dinner is made up of 11 Collections:
When Festive Dinner is first opened, and so is on Novice level, only the first 4 items from the Golden masterpieces collection will be on the list of potential rewards. As the level of the Picture is increased, more and more items will be unlocked as potential rewards.
The amount of energy required to play Festive Dinner will increase as the level of the Picture is increased. The experience points and coins rewards for each win of the Picture will also increase to match the increase in resource demands, as will the pool of potential collection item rewards:
Level
Resource Demands
Minimum Resource Rewards
Potential Game Item Rewards Pool
Energy Points
Special Items
Experience Points
Coins
Combining Elements
Collection Items
Novice
121
N/A
420
440
N/A
Horse-drawn carriage; Bird jewelry box; Lizard bracelet; Swan bowl
Trainee
124
N/A
430
450
N/A

+

Owl clock; Refrigerator; Glass table; Sofa; Dartboard
Detective
127
N/A
440
460
N/A

+

Aglaonema plant; Small motor; Hose; Device's body; Vacuum container
Pro
130
N/A
450
470
N/A

+

Magnetron; Pointed chisel; Tooth chisel; Rasp; Bull point chisel
High Explorer
133
N/A
460
480
N/A

+

Diamond file; Belgium waffles; Finnish waffles; Buckwheat waffles; Dutch waffles
Academician
136
N/A
470
490
N/A

+

Marseilles waffles; Cleaning robot; Butler robot; Waiter robot; Secretary robot; Cat robot
Magister
139
N/A
480
500
N/A

+

Motorcycle helmet; Infinity scarf; Motorcycle goggles; Motorcycle jacket; Satchel; Ballot box; Alfred's vote
Professor
142
N/A
490
510
N/A

+

Christy's, Howard's, Explorer's vote; Metaphysics volume; Doctrine of hermeticism; Essays on esoterism; Selected works on magic; Subtle bodies manuscript
Grand Magister
145
N/A
500
520
N/A

+

Dress; Shoes; Clutch; Bracelet; Earrings; Angels, Christmas tree, Snowman, Candles, Dove card
Note: During the Magic Tour and Christmas Update energy demands and experience points/coins rewarded for Festive Dinner were lower, since the level to unlock Festive Dinner was only level 7.
Coming soon....