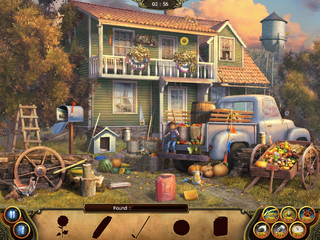 Farm is unlocked when the player reaches level 135.
Farm was introduced during the Harvest and Halloween Update's first Timed Challenge Event "Harvest Festival(September 2016). For the duration of this Update, Farm could be opened from level 7 onward to allow all players to take part in the update's timed challenges.
Harvest Basket special items were needed in addition to energy points to play Farm. While the Harvest Festival Timed Challenges were still active, Harvest Baskets were given as rewards for every successful investigation for every picture, and as rewards for banishing Anomalies, but not for playing puzzles. After the timed challenges ended (either a player completes all of the challenges, or the timer expires, whichever happened first), Harvest Baskets were restricted so that they are only won by playing Japanese House and Bungalow.
With the Introduction of the Magic Tour and Christmas Update (November 2016), Harvest Baskets were completely removed from the game. They were no longer required to play Farm, which became a regular Picture that just requires energy points to play. Any leftover Harvest Baskets in a player's Inventory were automatically converted, in equal parts, to the regular special items in the game (Fireflies, Ladybugs, Carrots, Cupid Arrows, and Tokens) and the collections that used to reward Harvest Baskets as rewards for combining them during the Harvest and Halloween Update had their rewards changed to regular game items.
From the Diary:
"Summer slipped away unnoticed. Nature is changing before our eyes, with green leaves fading into autumn gold. Christy spent the last warm days looking after her flowers. What was a surprise when she found a buried photograph. She accidentally hit the picture with a trowel, but it was possible to restore it. As if anticipating our thoughts, the photograph contained an image of a mysterious farm. Alfred said it was Richard's abandoned summer manor. The Farm, as it's called, lures me with its delicious autumn harvest. I wonder what I can find there."
Farm is one of the pictures in the game that does not reward any combining elements, but does reward collection items that require a large number of combining elements to combine.
The following is a list of hidden items found in Farm. Depending on the Picture Level and Game Mode you may not have to find all the items in one visit. Morphs and Pieces modes have their own items that need to be found, separate from those listed below.
Cat
Coat
Corn
Fertilizer¹
Gas canister
Grapes
Hammer
Harmonica
Hoe
Honeycomb¹
Horseshoe
Lemonade
Medal
Milk can
Nest
Pickles
Plane
Radio
Rake
Saw
Sickle
Sunflower
Tray
Watermelon
Wineskin¹
Item Notes:
The Hanami Festival Update (April 2018) made the following changes:

Bota Bag was renamed Wineskin
Fertilizers was renamed Fertilizer
Honey was renamed Honeycomb
Resource Demands and Rewards for Playing
Edit
Farm is a Collection Item only Picture. This means its list of potential rewards for each play only contains regular Collection Items, mode dependent Collection Items (depending on what mode the Picture is currently in), and Quest Items (if a Quest is currently active for the Picture). The list of potential rewards for Farm is made up of 11 Collections:
When Farm is first opened, and so is on Novice level, only the first 4 items from the Wandering lights collection will be on the list of potential rewards. As the level of the Picture is increased, more and more items will be unlocked as potential rewards.
The amount of energy required to play Farm will increase as the level of the Picture is increased. The experience points and coins rewards for each win of the Picture will also increase to match the increase in resource demands, as will the pool of potential collection item rewards:
Level
Resource Demands
Minimum Resource Rewards
Potential Game Item Rewards Pool
Energy Points
Special Items
Experience Points
Coins
Combining Elements
Collection Items
Novice
112
N/A
380
400
N/A
White light; Blue light; Red light; Yellow light
Trainee
115
N/A
390
410
N/A

+

Green light; Intro to a contract; The Explorer's obligations; The Ghost's obligations
Detective
118
N/A
400
420
N/A

+

Seal of the Ghost; The Ghost's signature; The Ghost's blueprint; Glass cylinder
Pro
121
N/A
410
430
N/A

+

Airtight pipe; Gas discharge indicator; Tesla coil; Golden elephant
High Explorer
124
N/A
420
440
N/A

+

Brass vase; Lasurite ring; Antique oil lamp; Persian rug
Academician
127
N/A
430
450
N/A

+

Man's ring; Woman's ring; Vintage spoon; Lost button; Rocking horse
Magister
130
N/A
440
460
N/A

+

Erida; Hera; Athena; Aphrodite; Prince Paris
Professor
133
N/A
450
470
N/A

+

King's order; Witchcraft act; Case files; The jury's verdict; Act of pardon; Purple carrots; Black tomatoes; Rainbow cauliflowers; Purple potatoes; Red cucumbers; Tunguska, Sikhote Alin, Murchison, Allende, Jilin meteorite
Grand Magister
136
N/A
460
480
N/A

+

Eggplant; Zucchini; Parsley; Thyme; Balsamic vinegar; Apple, Strawberry, Pear, Cherry, Melon crop
Note: During the Harvest Festival and Halloween Update energy demands and experience points/coins rewarded for Farm were lower, since the level to unlock Farm was only level 7.
coming soon....