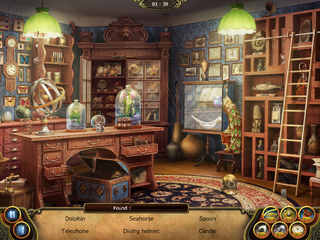 Curiosities Room is unlocked when the player reaches level 129.
Players can 'pay to play' Curiosities Room from level 127 onward, where they can choose to pay with crystals (which will need to be bought with real money) to unlock the Picture early, rather than waiting until they reach level 129 and unlock it for free through normal game play.
Curiosities Room was introduced during the Harvest and Halloween Update (September 2016). It is the only Picture added to the game by this Update that was not involved in a Timed Challenge Event.
From the Diary:
"There have long been rumors about Richard's secret room, where he kept his rarest findings. Christy thought it was just a myth, until she accidentally stumbled upon a mysterious fragment of a photo. When we managed to restore it completely, a view of my uncle's "Curiosities Room" greeted us! That's why no one could locate Richard's hiding place. It was in the photo! I wonder what we'll find there?."
Curiosities Room is one of the pictures in the game that does not reward any combining elements but does reward collection items that require a large number of combining elements to combine.
The following is a list of hidden items found in Curiosities Roomn in most modes. Depending on the Picture Level and Game Mode you may not have to find all the items in one visit.  Morphs and Pieces modes have their own items that need to be found, separate from those listed below.
Apple
Camera
Candle
Cello
Crescent moon
Crown
Crystal ball
Diving Helmet
Dolphin
Drinking glass
Gramophone
Hat
Hourglass
Knife
Mammoth
Mask
Pyramid
Saber-tooth cat ¹
Seahorse
Spear
Spoon
Telephone
Three monkeys
Trophy cup
Turtle
Item Notes:
The Hanami Festival Update (April 2018) made the following changes:

Sabertooth cat was renamed Sabre-tooth cat
Resource Demands and Rewards for Playing
Edit
Curiosities Room is a Collection Item only Picture. This means its list of potential rewards for each play only contains regular Collection Items, mode dependent Collection Items (depending on what mode the Picture is currently in), and Quest Items (if a Quest is currently active for the Picture). The list of potential rewards for Curiosities Room is made up of 12 Collections:
When Curiosities Room is first opened, and so is on Novice level, only the first 4 items from the Winner's laurel collection will be on the list of potential rewards. As the level of the Picture is increased, more and more items will be unlocked as potential rewards.
The amount of energy required to play Curiosities Room will increase as the level of the Picture is increased. The experience points and coins rewards for each win of the Picture will also increase to match the increase in resource demands, as will the pool of potential collection item rewards:
Level
Resource Demands
Minimum Resource Rewards
Potential Game Item Rewards Pool
Energy Points
Special Items
Experience Points
Coins
Combining Elements
Collection Items
Novice
107
N/A
360
380
N/A
Howard's badge; Christy's badge; May G's badge; Michael's badge
Trainee
110
N/A
370
390
N/A

+

Alfred's badge; Professional tripod; Fast lens; Studio lights
Detective
113
N/A
380
400
N/A

+

Studio flash; Flash synchronizer; Living room door; Workshop door
Pro
116
N/A
390
410
N/A

+

Pantry door; Library door; Front door; Key lock safe
High Explorer
119
N/A
400
420
N/A

+

Code safe; Electronic safe; Hidden safe; Smart safe
Academician
122
N/A
410
430
N/A

+

Flying book; Floating book; Biting book; Jumping book; Walking book
Magister
125
N/A
420
440
N/A

+

Pugnacious spoons; Protesting forks; Pacifist knives; Jolly tongs; Commander spatula
Professor
128
N/A
430
450
N/A

+

Piece of cloth; Footprint; Metal shaving; Drill; Adjustable wrench; Surgical gloves; Round brush; Impregnating oil; Piece of gauze; Eraser; Artemis's, Red, Gandiva, Cupid's, Odysseus's bow
Grand Magister
131
N/A
440
460
N/A

+

Denise's Pygmy Seahorse; Dwarf gecko; Northern Pudu; Pygmy Marmoset; Lesser Pygmy Shrew; Engineer's jacket, trousers, shirt, tie, cap
coming soon...