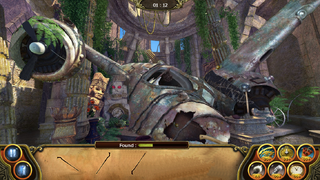 Disclaimer: The following article is about a fictional picture added to the game. For a real picture released in April 2016, see the Spring Festival page.
Original article, published 1st April 2016: Crashed Temple is unlocked when the player reaches level 7.
Crashed Temple was introduced during the April 2016 Update.
From the Diary:
"What an amazing magical photo I found today! It's called "Crashed Temple". It appears to be the perfect mix of two of my old favourites - Crashed Plane and Mayan Temple. Christy told me that Richard made it when he couldn't decide which of the other two magical photo locations to visit. What a clever solution!"
The following is a list of items found in Crashed Temple. Depending on the Picture Level and Game Mode you may not have to find all the items in one visit.
Stick
Bar
Stick
Stick
Baton
Stick
Branch
Stick
Cane
Stick
Patch of Dark
Stick
Rod
Stick
Stalk
Stick
Strip
Stick
Wand
Stick
Hand Fan
Morphs and Pieces modes have their own items that need to be found, separate from those listed above.
coming soon
Ad blocker interference detected!
Wikia is a free-to-use site that makes money from advertising. We have a modified experience for viewers using ad blockers

Wikia is not accessible if you've made further modifications. Remove the custom ad blocker rule(s) and the page will load as expected.