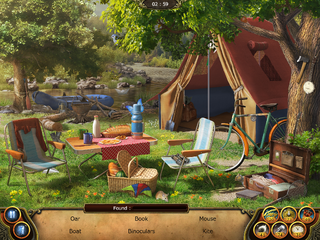 Camping Site is unlocked when the player reaches level 125.
Camping Site was introduced during the Celebration by the Bonfire Update (June 2016). For the duration of the Update, Camping Site could be opened from level 7 onward to allow all players to take part in the update's timed challenges.
Dandelion special items were needed in addition to energy points to play Camping Site. While the Celebration by the Bonfire Timed Challenges were still active, Dandelions were given as rewards for every successful investigation for every picture, and as rewards for banishing Anomalies, but not for playing puzzles. After the timed challenges ended (either a player completes all of the challenges, or the timer expires, whichever happened first), Dandelions were restricted so that they are only won by playing Japanese House and Amusement Park.
With the Introduction of the Harvest and Halloween Update (September 2016), Dandelions were completely removed from the game. They were no longer required to play Camping Site, which became a regular Picture that just requires energy points to play. Any leftover Dandelions in a player's Inventory were automatically converted, in equal parts, to the regular special items in the game (Fireflies, Ladybugs, Carrots, Cupid Arrows, and Tokens) and the collections that used to reward Dandelions as rewards for combining them during the Celebration by the Bonfire Update had their rewards changed to regular game items.
From the Diary:
"Christy was sorting through Uncle Richard's old stuff, and she found fragments of a magical picture! I managed to restore the picture. It captured a campsite, located deep in the woods. It seemed that the campsite had been left just recently. I wonder what brought Richard to the forest and why he took this photo? We have to find out."
Camping Site is one of the pictures in the game that does not reward any combining elements, but does reward collection items that require a large number of combining elements to combine.
The following is a list of hidden items found in Camping Site. Depending on the Picture Level and Game Mode you may not have to find all the items in one visit. Morphs and Pieces modes have their own items that need to be found, separate from those listed below.
Axe
Ball
Banjo
Binoculars
Bird
Book
Boots
Butterfly
Butterfly net
Chipmunk
Fishing rod
Flower
Flute
Guitar
Hat
Kite
Lantern
Mouse
Oar
Paper boat ¹
Paper plane ¹
Shovel
Spoon
Water canteen
Watermelon
Item Notes:
The Hanami Festival Update (April 2018) made the following changes:

Boat was renamed Paper boat
Plane was renamed Paper plane
Resource Demands and Rewards for Playing
Edit
Camping Site is a Collection Item only Picture. This means its list of potential rewards for each play only contains regular Collection Items, mode dependent Collection Items (depending on what mode the Picture is currently in), and Quest Items if a Quest is currently active for the Picture). The list of potential rewards for Camping Site is made up of 12 new Collections added by the Celebration by the Bonfire Update:
When Camping Site is first opened, and so is on Novice level, only the items from the Police dog collection and the first item from the Criminals on the loose collection will be on the list of potential rewards. As the level of the Picture is increased, more and more items will be unlocked as potential rewards.
The amount of energy required for each play increases as the Picture Level increases. The experience points and coins rewards for each win of the Picture will also increase to match the increase in resource demands, as will the pool of potential collection item rewards:
Level
Resource Demands
Minimum Resource Rewards
Potential Game Item Rewards Pool
Energy Points
Special Items
Experience Points
Coins
Combining Elements
Collection Items
Novice
106
N/A
360
380
N/A
Dog treat; Leash; Muzzle; Dog ball; Official harness; Pickpocket's poster
Trainee
109
N/A
370
390
N/A

+

Fraudster's poster; Thief's poster; Robber's poster; Bandit's poster; Thief's mask; Grappling hook
Detective
112
N/A
380
400
N/A

+

Bolt cutters; Soft boots; Micro camera; View of St. Petersburg; View of Paris; View of London
Pro
115
N/A
390
410
N/A

+

View of Shanghai; View of Washington; Tripod; Camera obscura; Vintage lens; Silver plate
High Explorer
118
N/A
400
420
N/A

+

Photographic developers; Glass of water; Paper bag; Old dish; Fragrant tea; Relaxing music; Elegant table; Elegant chair
Academician
121
N/A
410
430
N/A

+

Velvet armchair; Ornate banquette; Great sofa; Vase fragment 1; Vase fragment 2; Vase fragment 3; Vase fragment 4; Vase fragment 5; Shortbread cookies
Magister
124
N/A
420
440
N/A

+

Oatmeal biscuits; Milk cookies; Gingerbread cookies; Fruit cookies; Victoriatus; Denarius; Stater; Drachma; Tremissis
Professor
127
N/A
430
450
N/A

+

Acoustics system; Speaker; Amplifier; Turntable; Headphones; Crystal water; Wormwood oil; Rose petals; Peppermint; Cinnamon bark
Grand Magister
130
N/A
440
460
N/A
Same as Profesor
Note: Dandelion Special Items were required, in addition to energy points for each play of Camping Site for the duration of the Celebration by the Bonfire Update (June 2016 - September 2016). The Harvest and Halloween Update removed Dandelions as a requirement to play Camping Site, and it is now a regular Picture that just requires energy points to play.
Additionally, the energy demands and experience points/coins rewarded for Camping Site have been changed by the Harvest and Halloween Update, since the level to unlock Camping Site has been increased from 7 to 127 and higher unlocking level Pictures tend to have higher energy demands, higher experience points and coins rewards, and slower rates of % progress for each play at the Novice - Pro levels.
Three of the Collections whose items are in the pool of potential rewards for Camping Site - Daguere's camera, Antique Vase, and Clairvoyance potion - are needed to combine the new Amulet of Rarities Artefact, added to the game by the Celebration by the Bonfire Update. The last of the items from these collections will not be available to win in Camping Site until a player reaches Professor level in the Picture. Players will also need to reach High Explorer level in the Tropical Evening picture to unlock the items needed for the other 2 Collections that make up the Artefact.
The Amulet of Rarities Artefact decreases the number of Special Items that are needed to play certain pictures (e.g. Tokens to play Observation Deck or Cupid Arrows to play Tree of Dates) by 20% for 24 hours once activated, so will be a very useful Artefact for players.
Coming Soon