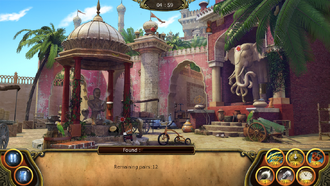 Buddha's Square is the first new picture you unlock after starting a new game of Secret Society: Hidden Mystery. From the Diary:
"For the first time, I was able to restore a magical photo myself - "Buddha's Square". Based on this success, I now know how to restore the rest of the torn photos in Richard's collection."
The following is a list of hidden items found in Buddha's Square. Depending on the Picture Level and Game Mode, you may not have to find all the items in one visit.  Morphs and Pieces modes have their own items that need to be found, separate from those listed below.
The orientation of the items may be different than in the images below, depending on how they are hidden within the Picture.
| Item | Regular Image | Silhouette |
| --- | --- | --- |
| Ancient Tome | | |
| Banana | | |
| Bell | | |
| Bracelet | | |
| Chess Knight ¹ | | |
| Drum | | |
| Elephant Figurine ¹ | | |
| Hand Fan | | |
| Hookah ¹ | | |
| Hourglass | | |
| Jug | | |
| Lotus Flower | | |
| Marine Binoculars ¹ | | |
| Monkey | | |
| Parrot | | |
| Rat | | |
| Red Apple | | |
| Shiva Statue | | |
| Sitar | | |
| Snake Pipe ¹ | | |
| Sundial | | |
| Teapot | | |
| Tiger Figurine ¹ | | |
| Tortoise | | |
Item Notes:
The Hanami Festival Update (April 2018) made the following changes:

Chess "Knight" was renamed Chess Knight
Elephant Statue was renamed Elephant Figurine
Hookah Pipe was renamed Hookah
Sea Binoculars was renamed Marine Binoculars
Snake Flute was renamed Snake Pipe
Tiger Statuette was renamed Tiger Figurine
Resource Demands and Rewards for Playing
Edit
The amount of energy required to play Buddha's Square will increase as the level of the Picture is increased. The experience points and coins rewards for each win of the Picture will also increase to match the increase in resource demands, as will the pool of potential collection item rewards.
The pool of rewards available for each successful game of Buddha's Square contains both Collection Items and Combining Elements:
Note: In addition to the items listed above, other items may also be in the list of potential rewards for a particular play of the picture depending on what game mode it is currently in (e.g. items from the Venetian Masks collection if it is in Text mode) or if there is an active quest involving the picture.
Possible locations
Ancient Tome

Behind the leg of the elephant

Banana
Bell
Bracelet
Chess "Knight"
Drum
Elephant Statue*

On wall next to elephant
On the top of the tree to the left

Hookah Pipe
Jug
Lotus Flower
Monkey
Parrot

Central Pillar near green

Rat

Under the wheel barrow to the right

Red Apple
Sea Binoculars
Shiva Statue
Sitar

Beside pillar of statue
Top pillar to the left of the center pillar

Snake Flute
Sundial

Wall of passage way in middle

Teapot
Tiger statue

Wall to the left of Elephant

Tortoise
Notes and Historical Information
Edit
Diary entry from 2014
"I restored my first magical picture of India on my own. Wow, it's beautiful. I just have to explore every corner of it."