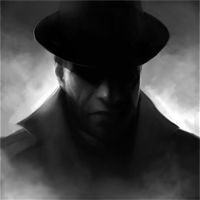 Player's can choose from a number of Avatars to use in the Secret Society - Hidden Mystery game. There are currently 10 standard avatars available to all players when they start a new game. In addition to these 10 standard avatars, players can occassionally win new avatars by completing special Timed Challenges that appear in the game, and can also choose to link their game to a Facebook account to use their Facebook profile picture as an avatar.
Player's avatars appear in a number of places in the game. They appear in a player's own game at the top left hand corner of their Home Desktop and when they are viewing their stats in the Top 1000 list. A player's avatar will can also be seen in their Friends games - next to the player's entry in their Friend's friends list; next to their gifts in their Friend's gift box; next to their wishlist when their Friend is gifting them; and on their Friend's Home Desktop when their Friend hires them. A player's avatar will also be visible to all other players in the game, whether they are game friends or not, if they appear in the Top 1000 list.
Changing Avatars
Edit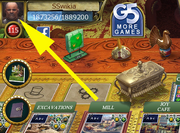 Every player is given the 'Shadow man' standard avatar by default when they start a new game. Player's can change their avatar as many times they want for free (since it does not cost crystals like name changes do).
In-Game Avatars
Edit
To choose an avatar from the standard in-game options, tap on your current avatar on the top left hand corner of the Home Desktop, beside your game name and current game level. This will bring up the 'Avatars' window, which will show all of the Avatars currently available in your game.
You can scroll through the list to see all available avatars. Tapping on an avatar will select it. The currently selected avatar will display a small green check mark to indicate it is selected.
Tapping on save will save any changes and exit the Avatars window. Tapping on the brown 'X' in the top right hand corner of the window will exit without saving any changes.
Facebook Avatars
Edit
Players can tap on the blue 'F' icon beneath their game name to connect their game to a Facebook account. This will open the devices browser and open the log-in page of Facebook.
Once a game is connected to Facebook, the name used on the Facebook account will be displayed below the player's game name and game level on their Home Desktop. Note that the Facebook name will also appear next to the players name in all other areas of the game, such as in their Friend's friends lists and in their stats in the top 1000 list, so players should not connect the game to their regular Facebook account that uses their real name unless they are comfortable with their name being displayed to all other players in the game. Creating a second, anonymous, gaming Facebook account to use for this purpose is recommended.
Once a Facebook account is connected to the game, the profile picture used in that Facebook account will appear as the first option in the Avatars window. Players can select this as their avatar by following the instructions above for changing in-game avatars.
List of In-Game Avatars
Edit
Every player in the game has access to a number of in-game avatars to choose from if they do not want to connect their game to a Facebook account. There are 10 standard avatars that all players have access to, as well as over 40 'unique' avatars (including female and male versions, if applicable) that could be won during previous timed challenge events in the game. It is not possible for a player to win any of the timed challenge avatars once their associated timed challenge event is over, but players who do win one of these special avatars during the event will always have it as an option to use.  The table in this section shows the 10 standard avatars.  The table in the next section shows the timed challenge avatars.
| Avatar | Avatar Type |
| --- | --- |
| | Standard (default) |
| | Standard |
| | Standard |
| | Standard |
| | Standard |
| | Standard |
| | Standard |
| | Standard |
| | Standard |
| | Standard |
| | Standard |
Special Avatars
Edit
Many Timed Challenges introduced by Updates to the game have used unique avatars as a reward. Typically, players are asked to complete a challenge within a certain time frame to win the avatar. Once a player wins a special avatar it will always be available to them to use and will always appear as an option in their in-game avatar list.
Below is a list of the special avatars that have been added to the game by timed challenge events:
Mystery Avatar
Edit

Dating back to the game at least to the 1.16 update (Halloween 2015 update) and potentially added by the
Spring 2015 Update
due to its positioning in the game files, one avatar exists in the game files but has not been used in the game to date. This mystery avatar may be related to aborted set of timed challenges intended for the Spring 2015 update, or may simply be a ghost left over from previous events in the game or the Facebook version of the game.
Hints and Tips
Edit
Some players use avatars to display messages to their Friends. Since avatars are free to change (do not cost crystals) and unique avatars can be used by connecting a game to a Facebook game, they can be used as powerful tools to easily display messages in the game such as gifting preferences or notifications of holidays from the game.
Glitches with Avatars
Edit
The Halloween 2013 Timed Challenge Avatar
Edit
The 2013 Halloween Update was the first time that timed challenges were introduced to the game. For this first ever set of challenges, players could win a unique avatar by reaching Academician level in the newly added Witch's Hut picture within a certain time frame. This was the first time that a unique avatar was on offer in the game. Many players experienced a glitch with this avatar, where it would not remain as an option in their Avatars window. Once a player changed their avatar from this Halloween avatar to another in-game option or a facebook avatar, then it would disappear from their list of available avatars and can never be used again. This is the only timed challenge avatar to date to have this problem.
Game Crashes Tavern Update
Edit
A change to how Facebook named its profile images in May 2014 created a serious problem in the game for iPad users. The new Facebook image names were too long for the game to handle and so the file extensions were cut off in the game. Without a file extension, the game did not know the file stored for that Facebook image was a picture and could not display it. For Android and Kindle devices, this meant affected images were replaced by a black square. But for iOS devices, the default black square could not be displayed, so instead the game would crash. This resulted in a major issue for iPad players, whose games would crash continuously when attempting to accept gifts. Any gifts sent by a player with a problem Facebook image as an avatar would have the problem image displayed next to the gift in their friend's gift boxes. When the iOS player attempting to accept their gifts came across one of these gifts, their game would crash. Many players lost all access to their gifts as a result of this glitch. It was eventually fixed by Treasure Island Update (September 2014) which added a default image that iOS devices could display whenever it had an issue displaying an image in the game.
Personalized Facebook Avatar Glitch
Edit
On March 29, 2018, players noticed that personalized Facebook Avatars had disappeared from the Avatar selection list. These games remained connected to Facebook and their Facebook account name continued to display, but the Avatar image was replaced by the Standard (default) Avatar in their own games and in the Friends section of the game. The glitch appears to affect all supported game platforms. The glitch did not affect the unsupported Windows 8 platform. The problem was reported to G5 and is awaiting resolution.